What You Need to Know about Cloud Migration & Modernization in Manufacturing
Going digital is the key priority for modern-day entrepreneurs when it comes to the manufacturing sector. Over the past couple of years, the cloud has become the lifeline of businesses prepared to visualize operations, cut back on costs, reap the maximum benefits out of the Industrial Internet of Things (IIoT), and most essentially deliver a topnotch digital experience in a labor market rife with competition.
The manufacturing sector adopted cloud technologies early and based on a detailed study by Frost & Sullivan, this trend is ever-increasing. Did you know that 50 percent of industry-wide workloads are now accommodated in the cloud, and that proportion is likely to increase to more than 53 percent by the year 2025?
According to the Frost & Sullivan study, Microsoft Azure technologies for the manufacturing sector will deliver competencies to flawlessly connect assets, people, business processes, and workflow, thus allowing clients and partners to push innovation, provide unique services, and see new prospects in the manufacturing industry.
Microsoft also seeks to accomplish your goal to let each individual and business achieve more by assisting clients and associates to create a more sustainable future.
Infrastructure Modernization

Build a strong infrastructure base by migrating legacy frameworks to the cloud. It helps to improve performance and operational efficiency for manufacturers.

Innovate/improve on your terms, be it migration to legacy applications, or developing new cloud-native applications for making fast progress.

Secure your data, infrastructure, and apps in all ways like other technology leaders are expecting from cloud migration.

Data Estate Modernization

Leverage data analytics for providing a path to unify cloud data, thus making it simpler to collate, process, store, visualize, and analyze data to gain smart, actionable insights for your operations.

Application Modernization

Streamline your legacy applications for delivering outstanding customer and employee experiences.

Support Hybrid IT estates

Many businesses follow a slow approach to adopting the cloud, moving some fundamental systems and applications, while also managing legacy on-prem infrastructure and applications.

Azure was designed with this in mind, helping you to bring cloud innovation and responsiveness to your on-prem environment.

Minimizing the TCO by utilizing hardware, and software licenses in the most favorable way.

Investments are transformed from direct capital expenditure to operational costs for utilizing IT services. More investments could be considered depending on the accomplishment of the project.

The infrastructure can be immediately provisioned when needed, thus improving the time-to-market.

Developing extremely scalable services for customers. Infrastructure scaling depends on peak loads and seasonal variants.
Cloud technologies have numerous benefits as is evident from the fundamental properties of increased availability, scalability, and flexibility. All of these did propel manufacturers' attempts to take their businesses to the next level. Be it directing adjustments in the supply chain to gaining insight into buyer demands driving your customers' needs, cloud technologies let you make the best use of your business data in significant ways.
Effective experimentation & innovation: Did you know that 45 percent of manufacturers use Azure to make their cloud operations run successfully? Again, 62 percent of businesses chose Microsoft azure to benefit from its tools and functionality to help streamline advanced analytics and artificial intelligence (AI) projects, thus opening opportunities for increased research, improvement, and modernization.
Agility: Currently, as business leaders are exploring methods to leverage data for reimagining their company operations, cloud environments delivering agility is probably the most essential benefit. Based on the study by Frost & Sullivan, connected devices are increasing at a ratio of 15.5 percent every year, while the cloud's dexterity allows manufacturers to leverage data from such devices cleverly to empower intelligent manufacturing and quick factory initiatives.
Enhanced security: Microsoft Azure also delivers robust business solutions to secure data within on-prem and cloud environments. Leveraging up-to-the-minute threat recognition and protection, Azure allows and enhances security across the whole technology landscape.
Value Proposition – Where Can Korcomptenz Help?
Helping our clients achieve more and remain competitive with a connected, secured, and scalable environment that has minimum complexities, zero security compromises, is disaster-proof, high availability, and low downtime.
KOR-enterprise cloud adoption consultancy and advisory specializes in building, running, and managing your current inelastic infrastructure, software, and applications in a hybrid environment that includes multiple clouds, on-premises, and the edge, while ensuring you get your expected ROI.
We have empowered our clients to attain a multi-layered grasp of their day-to-day operations turning your IT cost-center into a powerful tool to accelerate business model change, optimize ROI, and lower TCO.
Korcomptenz plays a pivotal role in helping businesses to migrate to the cloud environment by deploying new features to ensure a hassle-free cloud adoption. Our Cloud migration value proposition signifies a decrease in the total cost of ownership (TCO), improved business agility, conversion of fixed cost to variable cost, and ability to develop systems of a global grade. Korcomptenz will assist businesses to ease up costs on infrastructure while the cloud platform ensures faster time to market. Our cloud adoption consultancy and advisory services specializing in developing, running, and overseeing your inflexible infrastructure and applications in a hybrid setting.
KOR Cloud Migration Strategies
1. Understanding the Basics of Cloud: The fundamental question is how to get a business's cloud migration strategy to work. The migration does offer a reasonable number of speed bumps down the journey. IT management and security teams should ascertain that your company's stance is secure when migrating to the cloud. The common cloud service models are IaaS, SaaS, and PaaS. Business teams need to foresee and control costs during the process. Korcomptenz's cloud migration team will help you meander through the process efficiently, providing you with complete visibility prior to, during, and post-migration.
2. Migrating to the Cloud, App rationalization (What is it you want to move to the cloud): App rationalization means cleverly recognizing apps across a business to ascertain which apps to be kept, changed, consolidated, or withdrawn. Everything need not be moved, however, make sure associated workloads stay in conjunction. Update or overhaul your current systems, moving these to the cloud for the highest performance sans the cost and trouble of on-prem infrastructure. KOR's demonstrated proficiency across technology stacks will help your business to increase ROI all through the process and smartly upgrade your systems for the greatest business impact and competitive edge.
The Famous Rs: The 6Rs or famous Rs are the essential ways to manage cloud adoption or migration strategy. It includes Re-host, Re-platform, Re-purchase, Re-factor, Retire, and Retain.
The 6Rs: The Essential Ways to Manage Cloud Migration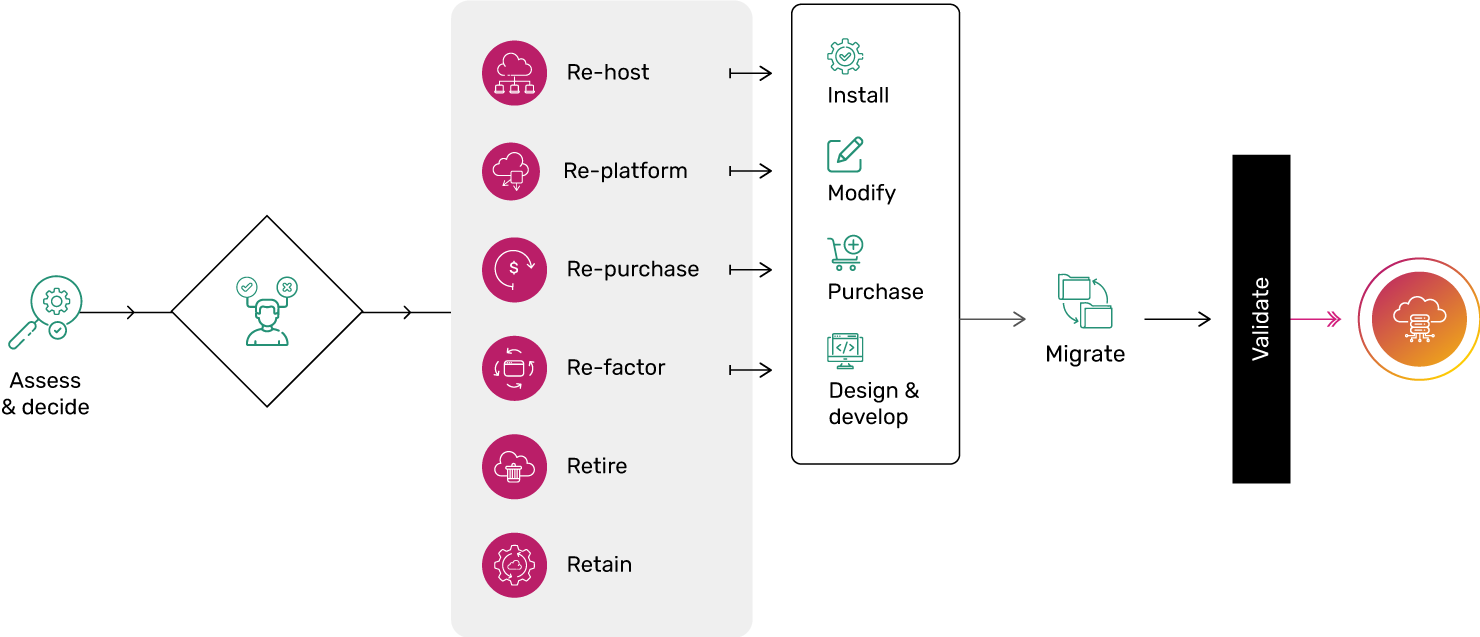 3. Migration and Modernization: When you get started with the cloud, it boils down to migration and modernization, both are extremely integrated. All through migration and development, manufacturers need to cope with their current infrastructure and maintain the capability to support varied technologies. This necessitates the flexibility of hybrid as well as multi-cloud services, letting businesses deal with cloud as well as on-prem assets and legacy applications.
Use by manufacturers of Hybrid and multicloud services

Microsoft Azure was designed to provide for such agility. With sophisticated data management and security tools, manufacturers can oversee resources without a glitch, with constant supervision and governance mechanisms within the cloud as well as on-prem resources.
4. Monitor and Manage: As a Cloud Managed IT Service Provider, we help you improve, monitor, and manage your cloud environment. Our comprehensive managed services include existing infrastructure assessment, custom Cloud architecture design, 24/7 monitoring, and provide complete cloud support.
5. Scaling up the Cloud Benefit: The benefits of cloud scalability include cost savings (Capex to Opex), speed, flexibility, maximum uptime and zero risk failure, security, and disaster recovery. The perks of cloud scalability are driving businesses to adopt the technology.
Cloud Migration in Manufacturing – Use Cases
Reducing expenditures and boosting efficiency are imperative for manufacturing units globally. With economic landscape change and supply chain growing more intricate, innovative technology has evolved to cope with the challenges. Cloud ERP for the manufacturing firms helps in automating production, collating business data in real-time, and minimizing operating expenses.
Here are two use cases of cloud technology in manufacturing:
Use Case 1: A component manufacturing unit for medical, aerospace, as well as industrial markets, wanted to strengthen its disparate systems and evade huge upfront investments. They chose a cloud ERP system to scale the business and reduce the total cost of ownership (TCO) in 10 years. The adoption of the cloud helped the manufacturer to go on with its continuous growth of 25% to 50% every year.
Use Case 2: Another manufacturing unit of big capacity injection molding for the automobile sector managed to automate numerous manual procedures by adopting the manufacturing cloud Enterprise Resource Solution. After implementation, the business witnessed a 30% rise in performance, thus ensuring minimized costs and enhanced customer satisfaction.
Increasing the Cloud Benefits
When in the cloud, manufacturers can make the most out of its perks to further enhance shop floor productivity, leverage data to make critical, informed business decisions, as well as accomplish several other digital outcomes. Based on the Frost and Sullivan study, the key digital urgencies of manufacturers are:
Manufacturers are Renovating with Cloud
The perks of the cloud are pushing digital transformation in the manufacturing sector. The traditional push in supply is growing at a fast pace to a more data-powered business model allowing to respond to requirements in real-time. To endorse such transformation, 57 percent of businesses are streamlining their data centers while 55 percent of them are developing their hybrid or multi-cloud environment.
Microsoft Azure seeks to make things easier for manufacturers to start their cloud migration journey with all-inclusive resources and assistance, taking full responsibility, making preparation and assisting in the implementation of cloud migration and modernization simpler.
Get in touch with us to talk about your cloud migration dream to help you embark on the Azure journey. Contact us here. Korcomptenz is a Microsoft Gold Partner helping clients with cloud migration with Azure. Feel free to contact us for a free consultation. Please send your inquiries to [email protected].
Elevate your efficiency with expert insights for a successful database migration to Oracle Cloud.
Protect banking operations with seamless cloud-based disaster recovery solutions, ensuring uninterrupted business continuity and resilience against unforeseen disruptions.
Cloud-Based Fraud Detection and Prevention in Banking uses real-time cloud capabilities and advanced algorithms to enhance security by swiftly identifying and preventing fraudulent activities, fostering trust in financial services.