Digital transformation means the integration of innovative technologies such as artificial intelligence (AI), cloud, machine learning, etc. into all areas of your business – small or big. Be it day-to-day operations or making strategic business decisions, digital transformation involves a cultural change , and reconsidering the ways your business should operate.
With the COVID-19 pandemic creating havoc globally since 2020, the speed at which digital transformation has been adopted is phenomenal.
Digital transformation powered by artificial intelligence (AI), cloud, and the Internet of Things (IoT) is here to stay. It means that the technological changes triggered by the COVID response have a long-term impact. and the key to business success is digital transformation – the way of life.
Digital Transformation Trends Creating Greater Impact
Companies across all industries reap the benefits of digital transformation enabling organizations to streamline legacy processes, reinforce security, fast-track workflows, and boost profitability. Cloud is paramount for businesses today and the majority of businesses are switching to multi-cloud solutions.
Move to Multi-Cloud Solutions
Cloud technologies help businesses and their customers to access work using the web, thus considerably minimizing the requirement for maintenance related to on-site hardware. This technology trend has empowered organizations with enhanced collaboration, flexibility, new development potential, and of course, supported faster digital transformation.
In 2023, businesses are moving towards multi-cloud solutions. It implies that rather than using a single cloud provider, companies can leverage numerous public clouds. Moreover, you can use hybrid solutions, including private and public clouds.
Based on the findings by Gartner, expenditures on public cloud services will touch a whopping $482 billion by the year 2023. When you adopt cloud technology, your company can walk the extra mile, and modernize processes, thus saving your money. With the cloud, your digital transformation is more powerful now and more disruption-proof in the days to come.
Embracing cloud and artificial intelligence technologies for scrutinizing loads of data will give your business an added advantage with respect to predictive knowledge. It will help in creating superior and personalized customer experiences. For instance, cloud analytics could support your business by allowing accurate data-driven decision-making quicker.
The corona epidemic has acted as a catalyst when it comes to digital transformation dependent on the usefulness, flexibility, and pace of cloud computing. The fact is obvious in remote work. The epidemic showed that your employees need access to business resources leveraging cloud technologies. Today, corporations prioritize cloud-based apps, services as well as security for supporting their remote employees.
Like the cloud, Advanced Analytics is the lifeline of modern businesses . Data is information today and so you need analytics to give you the real insights resulting in informed decision making. Data analytics and AI are the links to help your business adopt digital transformation to win over current business challenges that act as obstacles to effective data initiatives. The modern organizational problems are poor data quality, data siloes, complexities in your legacy systems or applications, and meeting customers' expectations.
Amazon is the best example of how tohey use advanced analytics and business intelligence to make recommendations depending on prior purchases, what items people purchased, bought related products, and the browsing habits of the customers.
Similar to advanced analytics, AI and machine learning are creating a significant impact on businesses . AI fuels digital transformation encompassing technological innovations like machine learning (ML), natural language processing, predictive analytics, and deep learning. These technologies will help your business to smartly analyze data, predict the future, automate repetitive tasks, and of course, remind you of the essential projects or tasks.
Did you know that 50 percent of businesses reported that they switched to AI in at least one business function? Again, 75 of the participants mentioned to the International Data Corporation (IDC) that they intend to digitally convert their business operations by the year 2025.
There are also examples to show how AI is transforming customer service, sales, and IT security. Here is how:
Customer service: Chatbots or for that matter, advanced AI bots such as Alexa or Siri help your customers with predictable questions. These AI-powered tools could save your business approximately $8 billion to resolve customer queries or problems fast, thus minimizing hiring and operation costs. It also provides an enhanced user experience in less time, and that too precisely.
Sales: AI-powered sales processes assist sales executives to move deals quickly by indicating which leads are more probable to convert depending on customer account historical data and past customer behavior.
Entrepreneurs using AI technologies state that they're 84 percent more probable to meet sales targets and be 67 percent more efficient at clinching deals.
IT Security: AI technology helps corporations identify and prevent advanced computer threats. Using MI and AI-backed security technologies, you can scan PCs for abnormal behavior, send warnings to IT experts about potential threats, and protect personal and business accounts/systems. This is done using biometrics, two-factor authentication, or creating, saving, and automating difficult passwords to protect computers.
Just as AI is making a huge impact on businesses, sensorization is the most important step in the direction of machine interconnectivity . Industry 4.0, the Industrial Internet of Things (IIoT), and intelligent manufacturing are popular trends critical to manufacturing efficiency and growth. Manufacturers today can make improvements concerning Industry 4.0 through sensorization.
The earliest step to machine inter-connectivity is sensorization. With IIoT, you can do away with human monitoring so that you can free your resources for more crucial areas of your business. Sensors are budget-friendly ways to measure variables like moisture, air quality, temperature, vibration, and motion. It will help manufacturing equipment to detect issues automatically, resulting in auto-triggering as well as auto-configuring from hardware and software.
For instance, the use of non-contact temperature sensors helps to auto-adjust roller speeds when attaching two cardboard pieces as one at any cardboard manufacturing unit. Such data could be used to enhance the toughness and bonding conditions of the finishing product.
Knowing Digital Maturity Quotient is Essential for Your Business
Digital Quotient is the digital maturity of your business. It conveys culture, abilities, organization, structure, and talent. Digital technology is a game-changer when it comes to the way your people work. Based on the findings by Right Management, businesses adopting digital disruption are 26 percent more profitable in comparison to their competitors. Digital Quotient is not isolated expertise but a result of numerous skills.
Getting your digital strategy right: Businesses get their digital strategy right when they answer some of the most important questions. These include:
Most businesses will deal with the third question using more strategic and targeted responses.
Taking customer experience to the next level: If your business is making a genuine effort to improve its Digital Quotient, you will gain the knowledge to understand how to make the best use of customer data to improve your services, see to evolving needs, and deliver new digital experiences that seem sensible on a human level.
This way, Digital Quotient helps businesses to understand what their customers want and what technology can deliver. Besides, companies also need to stay updated with the latest trends in digital transformation.
Gives businesses a competitive edge: When your business understands what your customers are looking for or desire and realizes how to go far beyond what is required and deliver using digital assets, will help you gain a competitive edge.
Let us explain this point with an example. For instance, Company ABC has developed a chatbot responding to a set of programmed questions or commands, not differentiating a user.
However, Company XYZ walks the extra mile, the chatbot remembering what a user asked earlier or bought any product. The chatbot answers questions adapting accordingly.
So which company do you think will have a more competitive edge? Obviously, XYZ!
Informed decision making: Some of the high-performing technology or digital firms stand out in the competition by keeping pace with their customers embarking on the buyer decision journey. For instance, if you can predict emerging customer behavior patterns and personalize related interactions fast by including structured data such as buying history and demographics with unstructured data like voice analytics and social media, it will help you make smart, informed business decisions.
Reckitt Benckiser, the flu and cold-remedy company used this strategy to boost its sales of flu products by a whopping 22 percent in the US.
Automating processes: The top digital players around the world focus to automate their business processes. For instance, a renowned European bank simplified its account opening process from 2-3 days to just not more than 10 minutes. Again, the same bank automated its mortgage application procedure by linking a web-based calculator to its credit-scoring standards. This helped the bank's customers to get an initial offer in not more than a minute.
Cutting back on costs: Digital Quotient is also comprehending what your company and its customers need. Accordingly, you leverage technology that works for your customers' needs. However, some businesses do not have digital intelligence and end up wasting resources, money, and time on technologies just for the sake of it.
Focus on digital transformation where it is applicable and advantageous to justify and streamline your costs.
Digital Quotient – The Guiding Star for Future-Ready Expertise
Today, all companies are digital, but as they build their digital abilities, gaps in skills start surfacing. To bridge these gaps and to develop the organization and staff capabilities, businesses must build and quantify the digital intelligence or digital quotient of their workforce. Companies need to focus on learning to build talent and close the skills gap.
The Five Major Stages of Digital Maturity
Many businesses execute new digital platforms and tools only to realize that these remain unutilized, or they fail to deliver the proposed transformative effect owing to low levels of digital maturity in an organization.
Based on the findings of Deloitte and MIT Sloane, digital transformation signifies a change in the culture and approach first. Reconsidering technology occurs later. According to experts, companies fall under five distinct stages of digital maturity. These include:
Digital maturity comprises certain characteristics related to structure, business process, technological architecture, as well as deployment.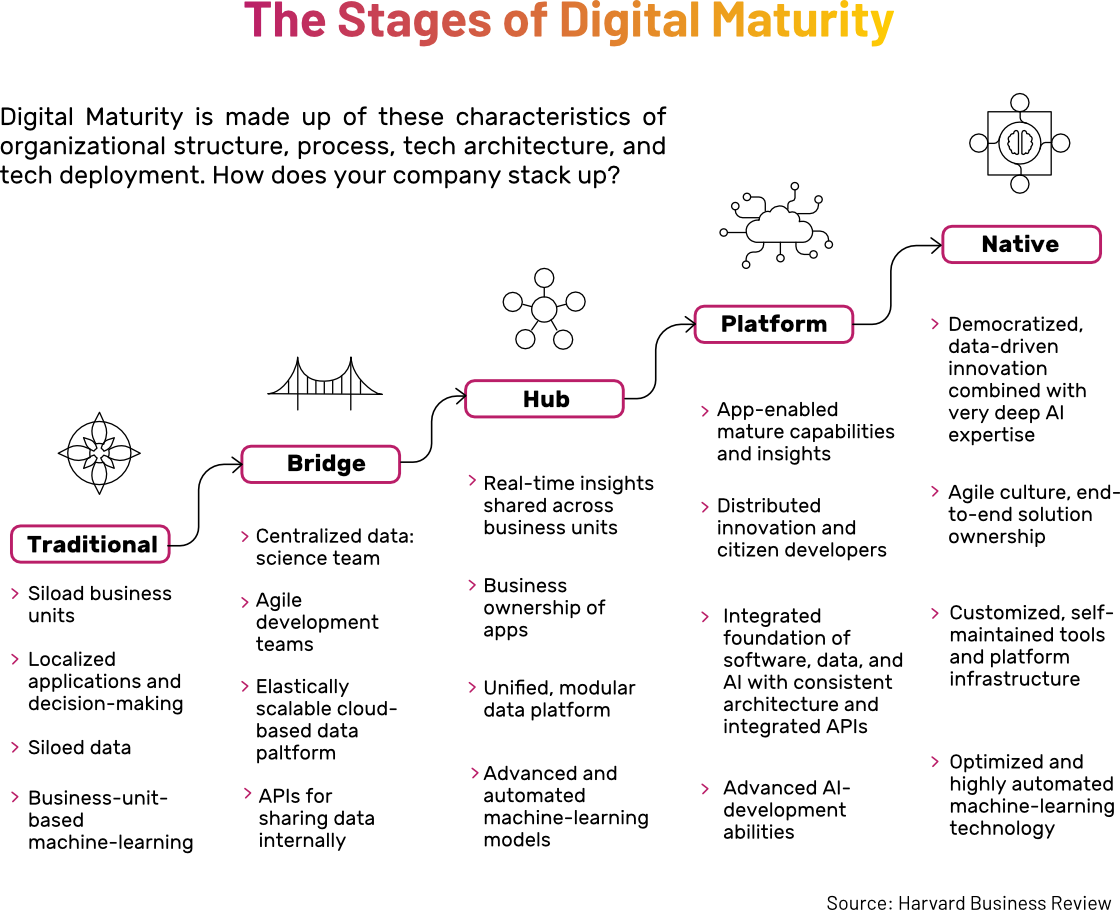 Employees at the Core of Digital Capacities
Talent or skillsets fuel your digital transformation initiatives. The workforce should not only be adept at digital technologies but also possess multidisciplinary skills to transform and co-develop futuristic solutions, ensuring outstanding customer service. Today, just meeting customer satisfaction isn't enough, companies need to exceed customer expectations. Period. Your employees should have the potential to leverage their creative abilities for digital solutions, services, and company success.
The lifespan of professional expertise is usually 4-5 years. It means an employee's skills lose their worth in that time. The skills keep dipping more with the years to come and therefore, it is the responsibility of your company to be future-centric and stay alert in keeping track of evolving technologies and digital transformation industry trends. Your business should guide employees to learn new skills and provide them with the opportunities to learn those technologies that are in demand.
Digital Quotient is Your Guide for Digital Readiness
The ability of your business to constantly improve your technology expertise – the digital quotient – is a key competency to help your organization be competitive in this age of digital transformation. Therefore, as a digital company, you need to use the digital quotient to classify and evaluate the willingness of employees, teams, and the organization to leverage innovative technologies like analytics, AI, MI, and the cloud. Digital Quotient is that metric to gauge the digital maturity and competence of your workforce. Your staff can leverage the competencies to drive value and impact for clients, teams, businesses, industries, as well as different stakeholders.
By being aware of the digital transformation market trends and gaining exposure in relevant areas, employees can utilize their skills to work on real projects.
The digital quotient is that vector that workers follow via their training and career. They achieve the competencies or skills in the initial stages and keep gaining knowledge and exposure to current and new-found skills. The impact is the consequent leap, where your employees use their skills to motivate clients with the learning and expertise gained until that time.
The consequent leap or jump beyond is that of creating value or worth that includes the key leadership quality of recognizing new business opportunities for profit creation, best industry positioning, and developing new, innovative solutions to create value for your stakeholders.

What did the Pandemic Do? How did a Shift to Digital Changed Several Businesses?
While countries were striving hard to brave the pandemic, businesses did whatever was necessary to ensure survival and continuity. Just responding and recuperating will not help in the post-pandemic world. To thrive, your company needs to learn about the top digital transformation trends and then build and implement a pandemic-proof business model.
Focusing on the Growth Plan
The businesses not just need to sell more but reshape their organizational values to metamorphose into a fast-response company, a digital or technology company that can withstand subsequent Covid outbreaks and ensure digital business transformation.
Take for example any sports brand. In the post-COVID world, a sports business can come up with new values and positioning. They can build stories and work in collaboration with influencers and encourage people to use home exercise apps.
Building Appropriate Customer Engagement
Your business wants to reach out to people and help them. It implies engaging with your customers and delivering experiences they love. It signifies associating data and technology with human individuality and values.
Customer experience is now more personal
The customer experience in the post-Covid era is now more personal. It is more about emotional engagement than in the earlier period. Most companies are now making the most of data to ensure outstanding customer experiences, be it an online garment store using technologies like artificial intelligence (AI) or machine learning to curate clothing depending on personal inclinations. It could be your brick-and-mortar store using some mobile app to offer buyers curbside pickup and no-contact payment.
Using customer information into useful, actionable insights
The greatest challenge is the dearth of quality data. Without sources of data related to your company and customers, gaining actionable or useful insights is impossible. It will have a bearing on your marketing and the ability to make decisions on the actions. Therefore, digital transformation is the way to survive in the post-Covid world.
Digital Health Solutions is the new normal
Did you know much of America's healthcare facilities have gone digital since the onset of the pandemic? Remote diagnostics and telemedicine are assisting a patient to receive medical diagnoses and advice right from the safety of their homes. They do not need to visit a hospital or doctor's clinic.
Building a Company that Delivers
Be it data or technology, they aren't like a magic stick to solve all your business problems. You need to possess the relevant skills, abilities, and digital tools, as well as a customer-focused approach to deliver the best for your targeted audience.
Right from collating and assessing data, building actionable insights, and putting those into technology will help you develop a customer-focused culture.
How has KOR helped clients in their Digital Transformation Journey?
Korcomptenz Case Studies – Digital Transformation
Korcomptenz helped a leader in the eCommerce & and retail sector stand out in the digital battleground by migrating from legacy systems to Microsoft Dynamics 365.
Our client deals with the distribution of outdoor recreational equipment to help customers pursue their hobbies related to adventure, nature, or outdoor leisure activities.
Pain Points of the Client
How Korcomptenz Solved the Client's Problems
We helped the client to upgrade their traditional Point of Sale (POS) to a technologically advanced POS leveraging Microsoft Surface Go to let users connect with customers no matter where they were in the store.
Korcomptenz also employed Advance Warehouse Management by integrating orders, pick and pack, and ship ensuring improved performance from the POS to warehouse processes. To learn more, check out our case study.
Helping our clients achieve more and remain competitive with a connected, secured, and scalable environment that has minimum complexities, and zero security compromises, is disaster proof, ensuring high availability and low downtime. KOR-enterprise cloud adoption consultancy, digital services and advisory specializes in building, running, and managing your current inelastic infrastructure, software, and applications in a hybrid environment that includes multiple clouds, on-premises, and the edge. We have empowered our clients to attain a multi-layered grasp of their day-to-day operations turning your IT cost-center into a powerful tool to accelerate business model change, optimize ROI and lower TCO by 40%.
The Digital transformation process is ever evolving and to keep pace with it, businesses should stay updated with the current technology trends and future innovations. A few of the technologies mentioned in this blog aren't fully new, but these were evolving at a constant pace over the years, gaining more significance in 2023. However, more innovative technologies are yet to arrive, and this year holds new wonders concerning digital technologies in the days to come.
Our experts will help you make the best use of data analytics, AI, cloud technologies, etc. to make smart, informed decisions, and work collaboratively. Contact us for a free consultation.
Elevate your efficiency with expert insights for a successful database migration to Oracle Cloud.
Protect banking operations with seamless cloud-based disaster recovery solutions, ensuring uninterrupted business continuity and resilience against unforeseen disruptions.
Cloud-Based Fraud Detection and Prevention in Banking uses real-time cloud capabilities and advanced algorithms to enhance security by swiftly identifying and preventing fraudulent activities, fostering trust in financial services.