DevSecOps unites development, security, and operations to enhance business efficiency. However, its implementation poses challenges for you like security complexities, collaboration obstacles, tool issues, cultural clashes, and skill gaps. Neglecting security in complex systems can affect work quality, and ensuring a full spectrum of security skills within your team can be an obstacle for developers, business leaders, or auditors.
Insufficient resources, standards, or data can threaten your security, especially when shifting processes to the cloud. That's where Korcomptenz comes in. We're your top pick for full-fledged DevSecOps consulting services. Our expert team will help you in assessing, implementing, and supporting your DevSecOps strategies, spanning from simple to complex enterprise IT projects.
We aim to create custom solutions that enable clients to enhance product development by integrating DevSecOps, ensuring improved security. Why? According to  VMware, a significant 92 percent of IT professionals have reported an enhancement in their organization's security posture due to DevSecOps.
DevSecOps entails the incorporation of security testing throughout all phases of the software development lifecycle. It encompasses tools and methodologies designed to foster cooperation among developers, security experts, and operations teams, to create software that is not only efficient but also highly secure.
Embracing a Cybersecurity Strategy Rooted in DevSecOps
Transitioning from DevOps to DevSecOps may seem complex, but it can be accomplished effectively through a phased approach with careful preparation. Three crucial stages should be contemplated by organizations when embracing DevSecOps: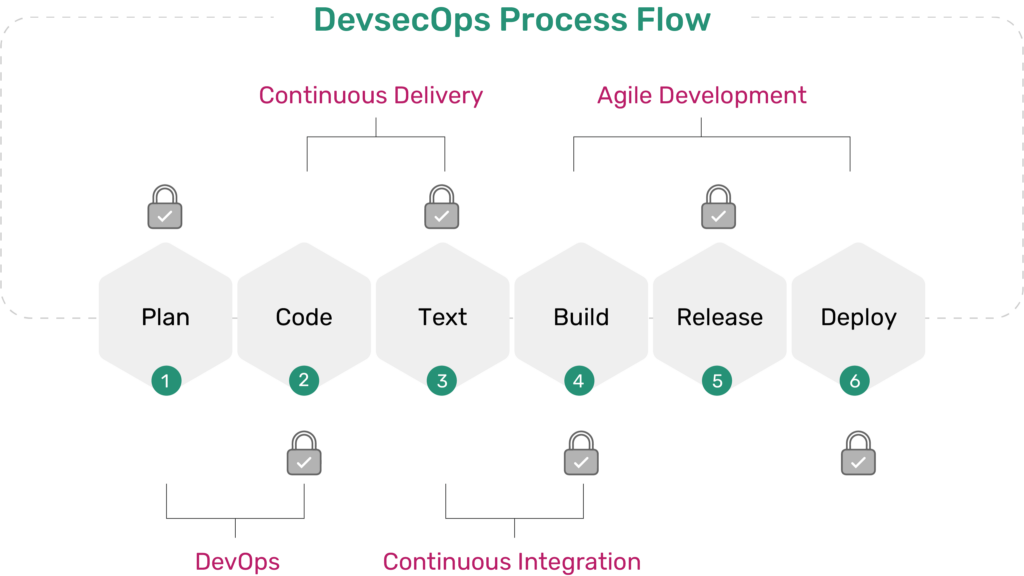 The imperative for DevSecOps is driven by the growing demands for security and efficiency in software development.
Let's explore how businesses can implement this approach to secure their operations and digital assets effectively:
The adoption of DevSecOps brings forth a plethora of benefits for businesses:
Korcomptenz specializes in DevSecOps, emphasizing security integration as a core best practice. We're your trusted technology partner, serving mid-sized and large organizations. We'll work with you to develop a custom DevSecOps strategy that meets your specific needs and goals. We'll modernize your legacy infrastructure and offer cloud solutions tailored to your requirements.
Businesses must embrace DevSecOps for improved security and faster time-to-market. It addresses security concerns, including common vulnerabilities, by reimagining the software development lifecycle. We have the expertise to seamlessly integrate security in the SDLC and streamline software delivery. Request a consultation today to make it a reality.
Elevate your efficiency with expert insights for a successful database migration to Oracle Cloud.
Protect banking operations with seamless cloud-based disaster recovery solutions, ensuring uninterrupted business continuity and resilience against unforeseen disruptions.
Cloud-Based Fraud Detection and Prevention in Banking uses real-time cloud capabilities and advanced algorithms to enhance security by swiftly identifying and preventing fraudulent activities, fostering trust in financial services.