Our Pandemic Story: Implementing & Going live on Dynamics 365 Finance & Operations
Adapting to the new normal
For close to two decades, Korcomptenz has been helping customers, as a Trusted Consultant and Partner, to leverage Information technology, to weather and thrive amidst the winds of change in the business world.
But when the world was hit by a pandemic, the likes of which haven't been seen in a hundred years, it forced Korcomptenz to deploy these skills at home. We had to confront – adapt – pivot – thrive to tackle this disruptive change, while also ensuring customer success on projects.
As an example, we were in the middle of user acceptance testing (UAT), for a Dynamics 365 Finance and Operations implementation in Florida. When the full force of the pandemic and its restrictions hit the implementation team working on this client's project, they knew they had to pivot and take decisive action for the training, go live and post go live support phases.
The Korcomptenz team immediately reached out to the customer, to reassure them of our support, and to adapt the project plan to the 'New Normal'. (Typically for Go Lives, we usually have a team stationed at the customer premises assisted by a team offsite) We instilled confidence in the customer's mind and stood firm that the project should not be delayed for any reason
However, as the customer was forced to shut down their offices and directed most of their employees to work from home, the training, data migration, and go-live had to now be done remotely.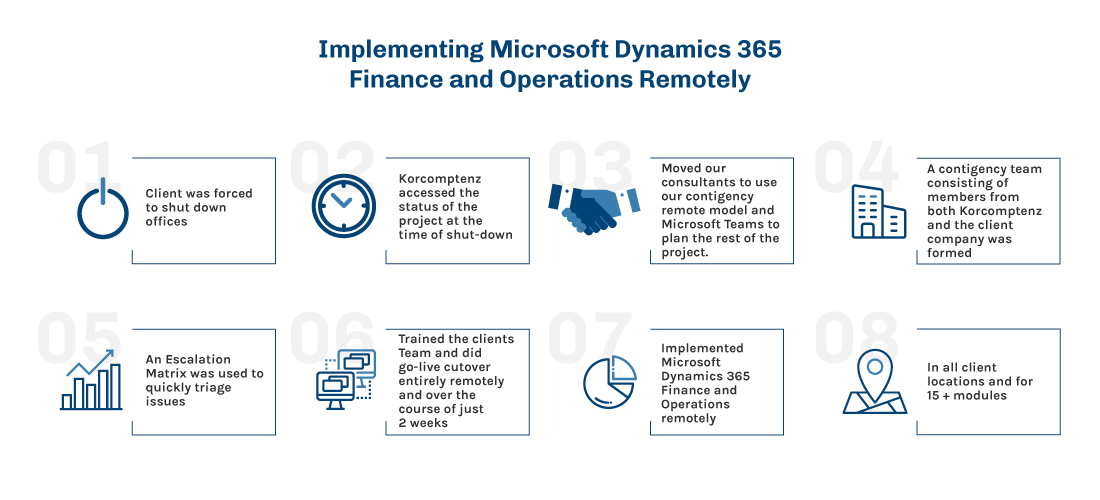 An expert team involving both companies (us and the client) was immediately formed to overcome the situation and devise a strategy to meet the target deadline. We drew on our deep experience in project management, change management, collaboration technologies, etc. to devise a plan that would meet the project objectives as smoothly as possible under the changed circumstances.
Mini teams were formed for each module/process. Their respective tasks, responsibilities, and the respective sequence in which they had to be performed were chalked out and disseminated. Microsoft Teams Channels were used for the teams to collaborate and to put tribal learning to work. An Escalation matrix with full contact details was shared, so members could quickly triage and nip issues in the bud.
Keeping Delivery paramount along with Cost
We leveraged fully on our cost-efficient off-shore resources to our advantage, as teams in other time zones, working shifts, continued to triage on problems, while the US teams (client and us) were able to rest and recharge, warding off any burnout situations.
The teething issues were tracked through a simple ticketing system. Users just had to send an email to the designated email id and the ticket was automatically created, assigned, and shared among the respective consultants. Go Live scope was broken down into individual processes for easier management and greater transparency.
Thanks to the steady hand of the project team and the strong partnership mindset of our customer team, we were able to successfully go-live on the new system. With the new system, the client is now able to access and successfully analyze a lot of critical data sets, that yield actionable insights that are even more valuable in these uncertain times.
KORCOMPTENZ is a Microsoft Gold-Certified Partner headquartered in New Jersey with extensive experience in improving business outcomes for our customers. We leverage end-to-end solutions involving the ongoing convergence of ERP, Azure Cloud, Analytics, Artificial Intelligence, and IoT. We specialize in the Microsoft Dynamics 365 range of products such as Dynamics 365 Business Central, Dynamics 365 Finance and Operations, and Dynamics 365 CRM. Request a consultation today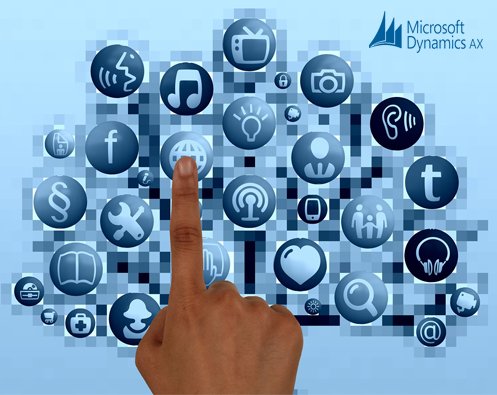 Most companies that use Microsoft Dynamics AX need to integrate with third party systems.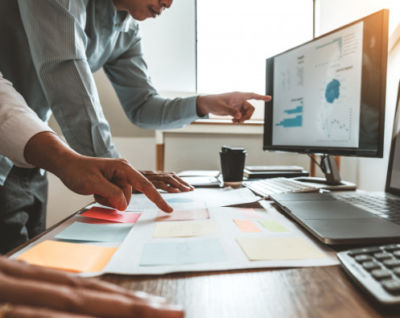 Currently Microsoft provides a direct upgrade path from Dynamics AX 2012 to Dynamics 365 Finance and Supply chain management, which essentially…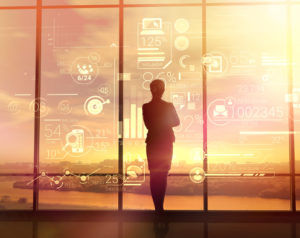 Although the general concept of this widely used quote is generally true, it doesn't take 20 years to build a billion-dollar company anymore in the…