When it comes to migrating your tech stack to the cloud, it can feel a lot like standing in a Tube station staring at a map—there are plenty of routes, many of them dotted with stops along the way. But what's the ideal route for your cloud journey? What's the best path forward for your organization?
There are several factors to consider, including your evolving business priorities and your existing investments in people, skills, and on-premises infrastructure. And how best to modernize and advance the diverse set of applications that run your workloads to keep your business thriving.
As you look to the cloud to empower your expanding remote workforce—and to gain the agility to meet the demands of the ever-evolving global digital business landscape—finding ease and simplicity may at first seem challenging. But among all the various routes for migrating to the cloud, did you know there's a path forward that will enable you to accelerate your cloud migration at your own pace? That path is with the power of Azure VMware Solution (AVS).
On a basic level, AVS lets you seamlessly move VMware workloads from your datacenter to Azure and integrate additional Azure services with ease—all while continuing to manage your IT environments with the same VMware tools you already know. On this route, you have the choice and flexibility to determine what workloads to migrate, and you decide the right time to migrate them. With platform symmetry, you have complete control to transform based on how your organization defines its unique cloud journey.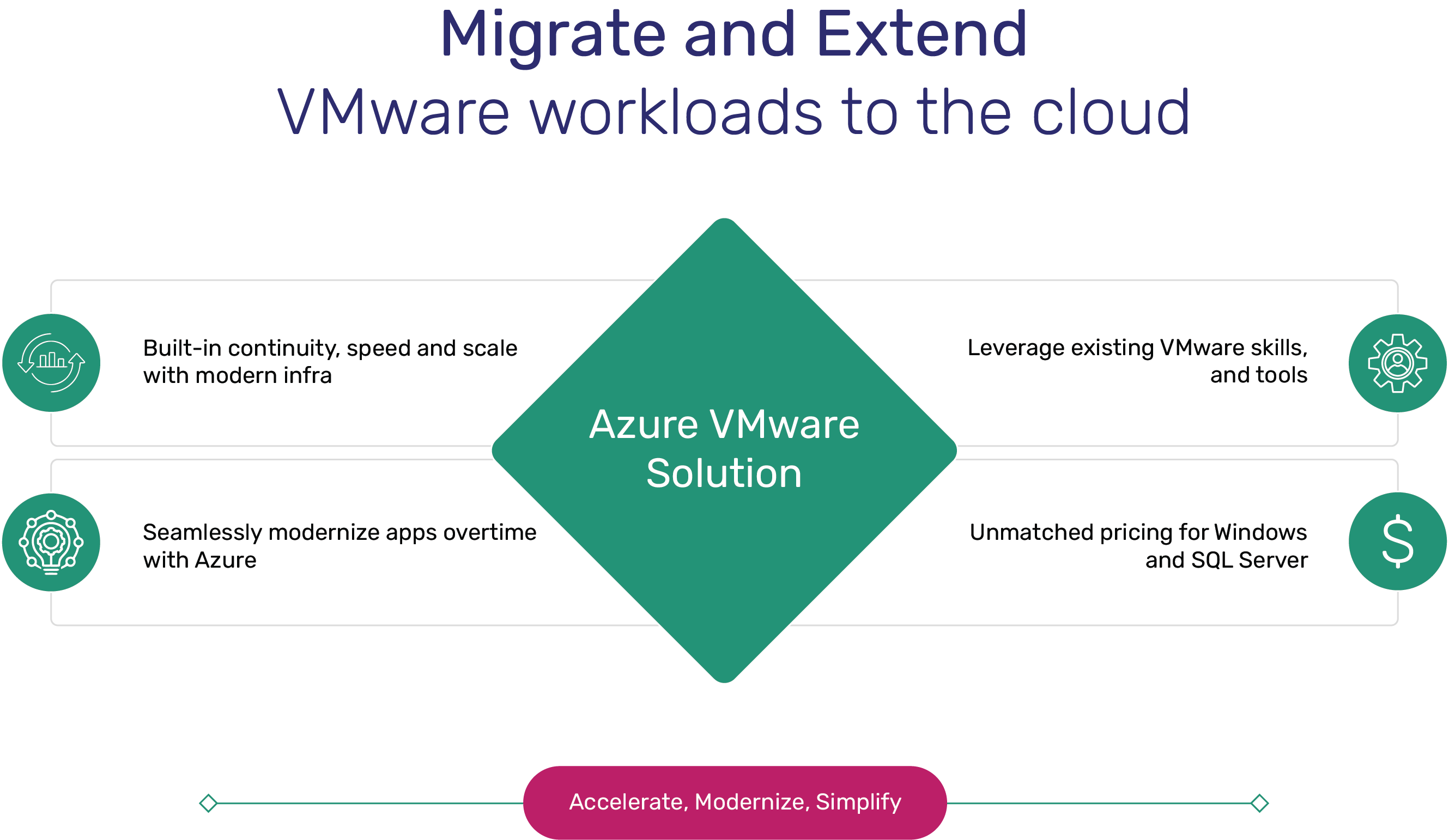 Reduce migration complexity
Cloud migration undoubtedly involves a variety of variables: staff readiness, current processes, IT support and management, to name a few. With AVS, you access and manage your VMware environments using familiar VMware tools without needing to retrain staff or even re-platform the hypervisors. In fact, your operations remain consistent with direct administrative access to VMware vSphere interfaces.
We've seen many organizations, large and small, that have successfully accelerated migration and minimized downtime using the latest VMware HCX functionality for large-scale, live migration from on-premises to Azure. Using VMware vMotion from vCenter, you have the ability to migrate live VMs from on-premises to Azure without any downtime.
With the option to select from a large variety of migration methods, including cold, warm, with or without replication, or live without replication, AVS provides the best route to migrate what you want and when it's best suited for your specific business goals.
Modernization of your VMware infrastructure and applications gives you agility to adapt to future market and technology disruptions and unforeseen changes in technology, customers, and the competition. But, of course, you want to achieve all this goodness in a highly secure way.
With the continued rise in challenges presented by remote workers and the frequency and sophistication of nation-state attacks, security concerns, whether with a hybrid cloud or a multicloud approach, unsurprisingly, are on the rise. More than 85% of organizations say security is the leading challenge for all organizations.
A cloud migration with AVS provides access to Azure's built-in security capabilities across all your cloud resources and all layers of your architecture. It's easy to turn on through every stage of the development lifecycle, from native controls for the DevOps process to scalable security experiences for security operations teams.
Azure security is holistic. This isn't just about protecting Azure; it's about protecting your entire organization. It works with what you have and provides you the ability to secure workloads quickly with built-in controls and services. Threat protection with Azure Monitoring and Security Center means you can be confident you're protected against rapidly evolving threats during your cloud journey.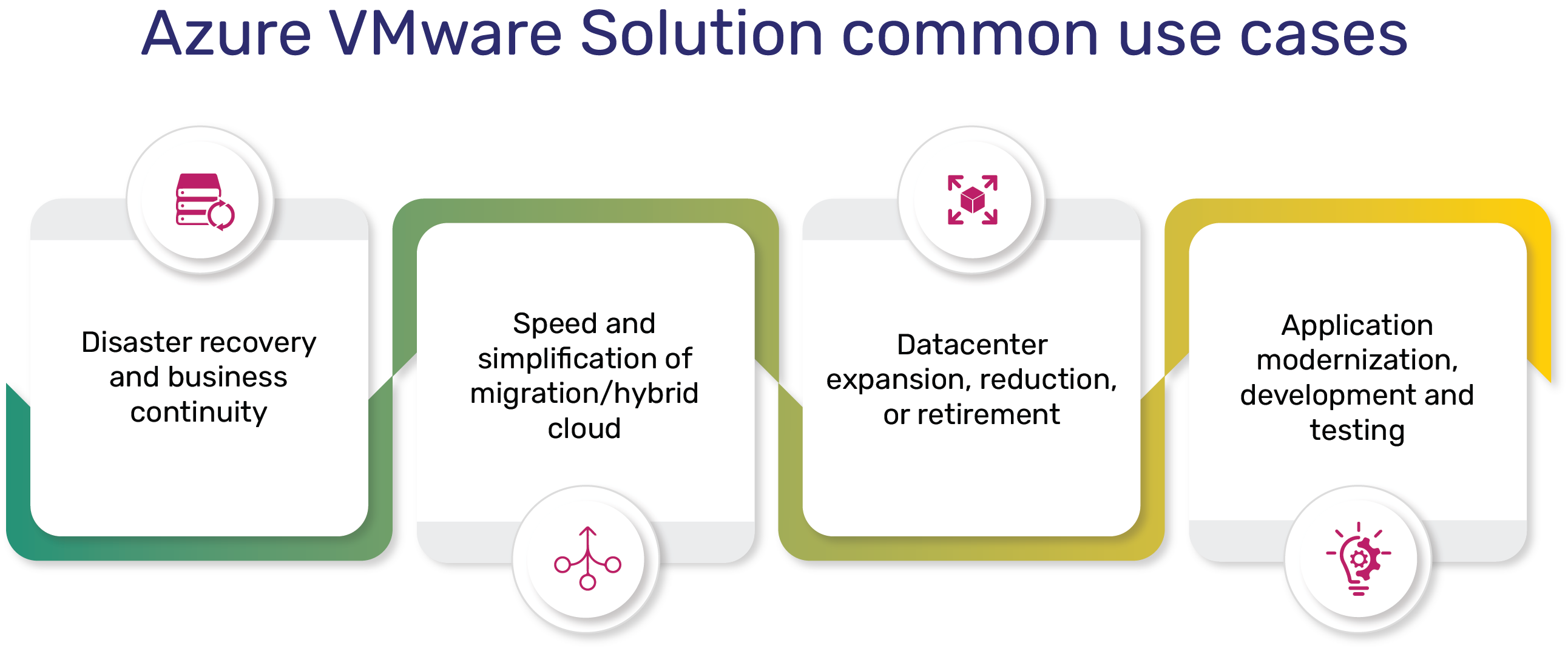 Finally, moving to the cloud has clear economic benefits. The AVS route lets you convert upfront capital expenditures into operating expenditures and pay as you consume. Running your VMware environment in Azure allows you to scale up and down to meet demand, so you don't have to overprovision resources to be ready for peak usage and incur expenses on idle servers.
Time to claim your ticket
No matter whether you're exploring options for exiting your datacenter, need a solution to support flexible capacity in the cloud, or looking to modernize at your own pace, your route to the cloud is clear. And your ticket on the AVS train is waiting.
Drive scale, gain operational efficiencies, maintain operational processes, and focus on what matters most to your organization. Go Business Class with Azure VMware Solution.
Get in touch with us to talk about your cloud migration dream to help you embark on the Azure journey. Korcomptenz is a Microsoft Azure and AWS Partner that helps you achieve more, giving your business a competitive edge with diverse services and solutions. Feel free to contact us for a free consultation. Please send your inquiries to [email protected].
Learn how DevOps unites people, process, and technology in the planning, development, delivery, and operations phases of the application lifecycle
The Industrial Internet of Things is the industrial framework that allows the efficient use of IoT devices in various manufacturing and industrial processes.
Digital transformation and cloud migration are two buzzwords that describe how business leaders look for effective ways to optimize their core business infrastructure.