Managing a mid-sized business with $100 million in revenues is not without its challenges in a fast-shifting technological world. To rise over your competitors and improve market share, you need technology that can help you realize your goals. Many businesses find it extremely challenging to choose the right software to manage customer needs and enhance organizational efficiency.
If you're facing challenges while managing your growing enterprise across finance, operations, sales, and service teams, it's time to move to the cloud by choosing the best cloud ERP solution that fits your needs and budget.
Among the solutions available in the market, Microsoft Dynamics 365 Business Central (BC) is one of the best options for a $100M enterprise because of its user-friendliness, suitability, and rich features spanning across diverse industries, be it manufacturing, retail, education, or nonprofits. As of September 2022, Dynamics 365 BC leads the global ERP software market with a share of more than 87 percent.
Microsoft Dynamics 365 BC Modules
Dynamics 365 BC is an enterprise management solution that connects business processes and people like no other ERP software can. It includes the following modules:
Financial Management: Business Central helps to deal with your finances with improved visibility. Quicken financial close, enhance forecasting, and receive performance metrics in real-time while encouraging compliance as well as security. It lets your businesses carry out major functions like creating financial statements, posting transactions, managing fixed assets and costs, ensuring bank reconciliation, etc.
Sales and Service Management: Empower your sales team to offer better customer interactions by forming best practices and leveraging productivity tools. The connected system will help you to manage all your sales processes from inside MS Outlook, reducing the time and effort needed to log into multiple systems to access data or perform routine tasks. You can also reduce the quote to cash time by connecting accounting and sales with Dynamics BC CRM functionality.
Provide improved service experiences with strategy, dispatching, as well as contract management. It's one of the best BC features offering full capabilities for work orders, service requests, contracts, and spare parts. It helps your service team to meet SLAs and promote customer loyalty.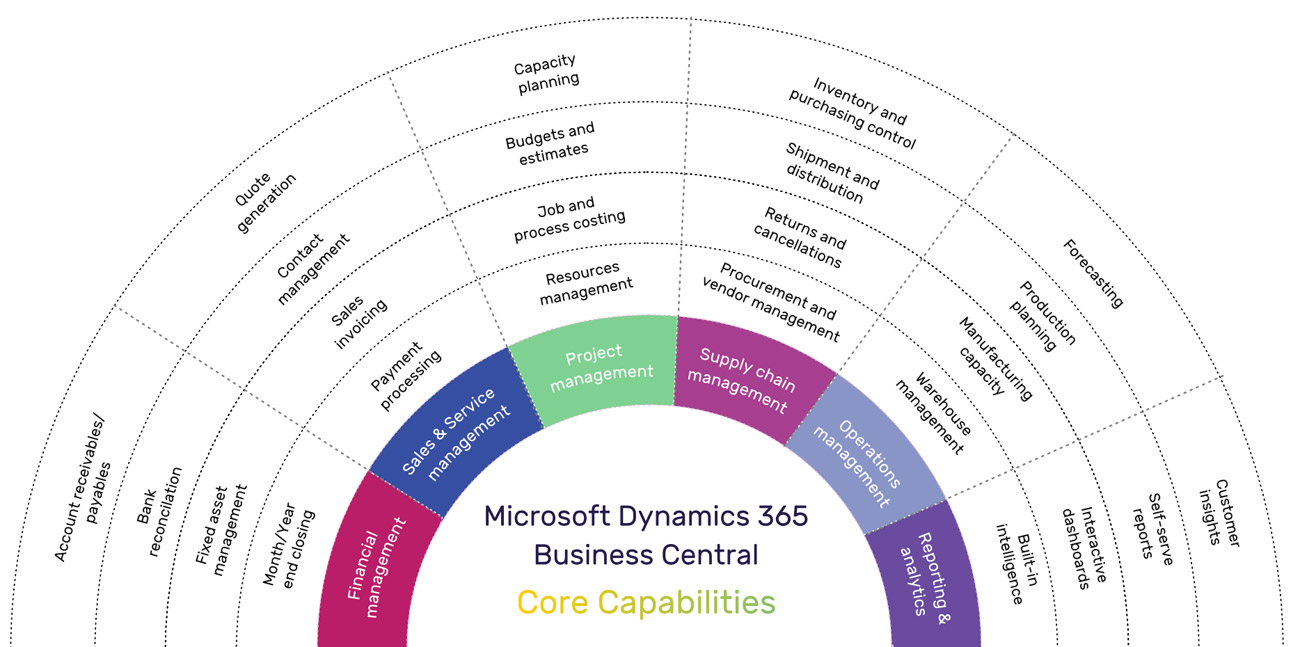 Project Management: Ensure effective project implementation as well as profitability through strategizing, resourcing, tracing, costing, invoicing, and intelligence in real time. The module lets you implement regular project and resource management duties, control budgets, and watch progress together with timesheets as well as actual-resource accessibility data. 
Supply Chain Management: Ensure timely delivery of your goods and adjust to shifting business models with clarity across manufacturing, purchasing, inventory, warehousing, as well as forecasting. The features of Business Central simplify processes throughout your supply chain. Get access to one comprehensive solution with the best features to help you drive outstanding customer satisfaction.
Operations Management: Improve your manufacturing operations proactively to boost output, profitability, uptime and quality, simultaneously minimizing costs and meeting customer expectations. Leverage the in-built business intelligence in the tool to get clarity on manufacturing performance, inventory levels, and forecast product demand in the future.
Reporting and Analytics: Mid-sized businesses rely on in-built analytics to employ unique ways to keep watch on their business. Dynamics BC supports both standard and intricate business processes featuring analytics and reporting tools. Leverage the features to envision financial information across purchase and sales, and accounting. Enhance forecasting with smart reporting in real-time. Use embedded Power BI for useful analytics and an all-encompassing vision of your enterprise data.
Are Your Basic Accounting Systems Jeopardizing Your Business?
If you notice any of the following red flags, it's time to upgrade:
Reasons Why You Should Embrace New Business Management Systems

Microsoft Dynamics 365 BC – The Best Fit for Businesses
There's no such thing as the perfect time for your enterprise to update your old systems. Cloud technology has opened opportunities galore for businesses to grow their capabilities within budget, build more competence and flexibility, and be ready for ever-changing business situations. 
With multiple technology vendors competing for your organization, it could be difficult to distinguish between ERP solutions and get the best one for your enterprise. 
The characteristics of an advanced ERP software such as Dynamics 365 Business Central are:
All-encompassing integration: Deploy a single software to manage all your operations with the capability to connect applications such as banking, payroll, CRM systems, or for that matter bespoke APIs. 
Connects your entire business: Automatically pulls all your business processes and systems simultaneously, thus saving your employees' time.
Automates and makes business processes secure: Boost organizational productivity to get additional work done with easy-to-build workflows, business-level security, and audit trails. These are the features that any simple accounting solution can't offer.
Get a complete view of your enterprise: Centralize your business data, be it purchase, sales, accounting, customer interactions, or inventory to get a precise, complete view of your organization. All information remains updated to help you detect trends, avoid problems, and provide outstanding customer experiences. 
Trusted technology provider: Builds security as a reliable and primary technology provider for mid-sized businesses globally.
Enables mobility: Enables your mobile workforce by offering similar experiences across all devices, irrespective of where they're working from. 
Easy learning: Dynamics 365 BC is a simple solution that you can easily learn due to its intuitive, user-friendly features.
Why Choose Dynamics 365 BC to Run Business
Transform and connect your detached systems. Increase efficiency with automated tasks as well as workflows. Get a 360-degree view of your business to make informed decisions with integrated intelligence.
Implementation of Microsoft Dynamics 365 Business Central is also faster. With your business in the cloud, it's simple to change and adjust at your convenience and pace. Begin with what you require, easy and fast, and equip your business for growth. 
As a Microsoft Gold Partner, Korcomptenz helps you gain a competitive edge with Microsoft Dynamics 365 BC implementation. Boost your business operation, enhance financial visibility, improve performance, connect processes and people, and gain useful insights to make quick and learned decisions with one cloud ERP system customized for your business.
Dynamics 365 Business Central is the perfect ERP solution to adopt for your medium-sized business. In other words, very few solutions have the scalability, competency, and affordability that Business Central has to offer.
Elevate your efficiency with expert insights for a successful database migration to Oracle Cloud.
Unlock the potential of your business with S/4HANA Migration, offering compelling reasons to embrace the transition today.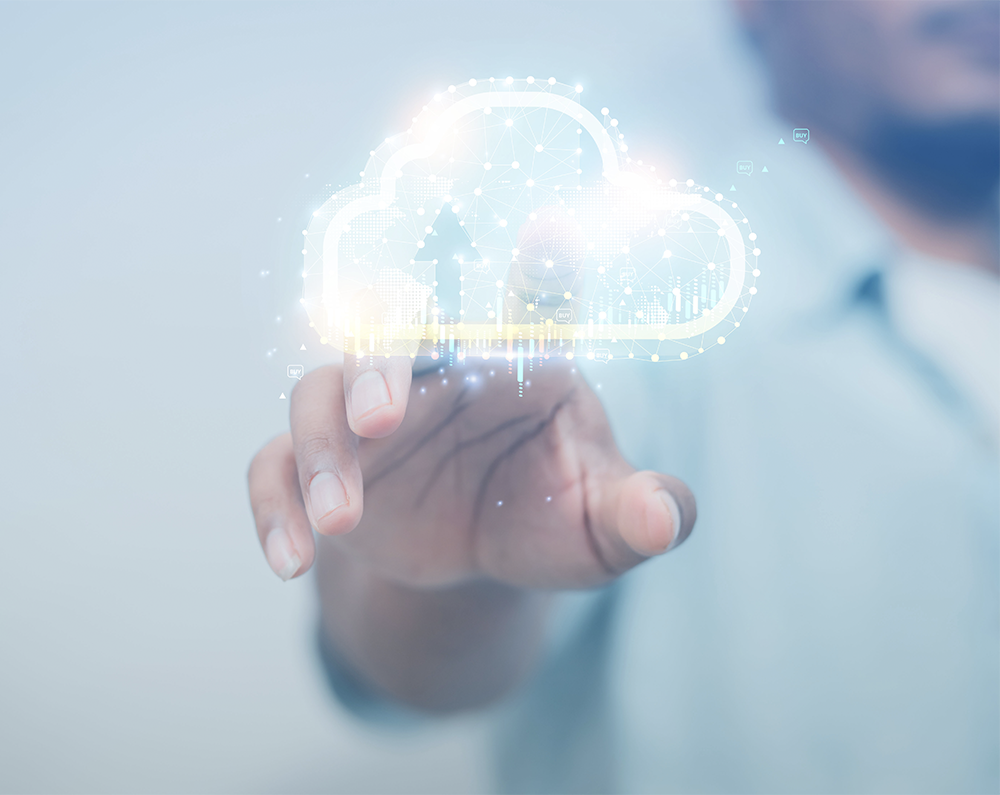 Overcoming challenges in implementing cloud-based loan origination systems is crucial for banks to leverage the benefits they offer.