Tips and Tricks to Avoid Pitfalls and Achieve a Successful ERP Implementation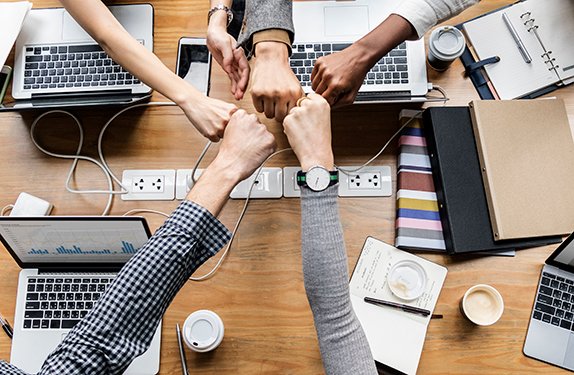 After strategically and tactfully deciding on the Enterprise Resource Planning application of your choice, setting up resources, finance and infrastructure – it's been found that almost every implementation is marked with some escalations, breakdowns, delays or budgetary inflations. Then there are those times when the ERP implementation takes time to see its final ROI due to less user adoption to leverage the full functionality of the ERP implemented.
After years of being in the business in helping thousands of customers implement intelligent business solution that helps them empower their employees, engage better with their customer and optimize operation excellence, Korcomptenz can help you with the experience of how you can avoid pitfalls and implement and support ERP with less to worry about. Following key points may be considered on you, how you go about the high-level plan of preparing yourself on implementing the ERP of your choice.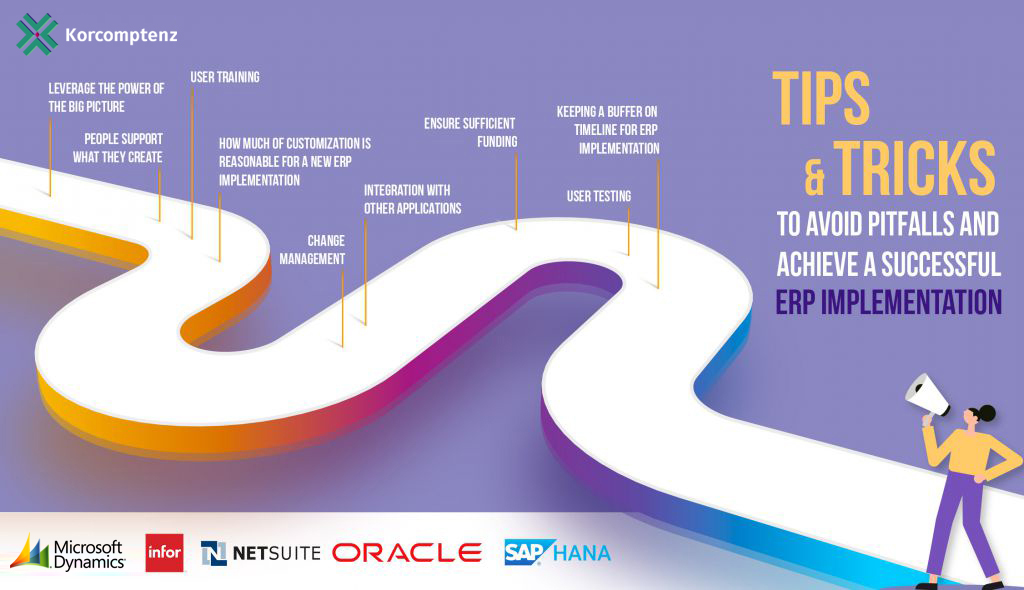 1) Leverage the Power of the Big Picture: Ask yourself in advance, where do you want to be when you see yourself on the finish line. All ERP and or even upgrades done are a costly investment, not just because of the application and infrastructure cost, but the commitment you need to make in terms of time and resources. An ERP normally has a long life from 10 -12 years. When you begin deciding on an ERP, start by answering, what are the key activities your current systems cannot achieve that you would want to power up with the new ERP and what may be the future needs for the business. Define the deliverables by addressing the key functionalities, business processes, workflow automation, real-time data insights, accuracy, seamless integration with external customers and vendors, adaptability by the team and the timelines. Most companies are seeing moving to ERP as a big step towards attaining Digital Transformation and growth as the big picture.
2) People Support what they Create: Even with a proven methodology or a good detailed plan, in order to see the ERP successfully implemented and thriving, you would need to include the most important stakeholders, those who eventually work on it. The plan needs to be designed from how these stakeholders visualize their end goal and one needs to make sure their needs and requirements are captured. Besides requirements gathering, it's important that the users and stakeholders block their time to run through along the plan from the initial start, as a top priority, thereby increasing their involvement and ensuring successful ERP implementation. Normally any ERP implementation would take anywhere from 6 months to a year plus to implement. Choose the core team, the users and the project manager from within the organizations that have a lot at stake when the ERP is successfully implemented.
3) How much of customization is reasonable for a new ERP implementation: If you are organization is implementing ERP for the first time, it's in your interest to minimize customization that are complicated and may cause delay. Customizations no matter however small can make the ERP implementation expensive and complicated. Look at use of ISV's if your customization requirement is a standard process for your industry. It saves time and effort.
4) Change management: The biggest challenge during implementation and after going live is not the technology, it is related to people. At every phase of the implementation, organizations must work harder to manage the change, make people to understand, and educate them since the topmost issues are related to changing management (roles and responsibilities), training and adequate staff to manage processes.
5) Integration with other applications: Ensure that only important integrations are integrated with the ERP and on the other hand do not integrate all the applications wherein the processes can be handled independently. These integrations can be done after going live and the team is familiar with the system.
6) Keeping a buffer on timeline for ERP implementation: Scheduling timelines realistically works in favor of a successful ERP implementation. Having a Plan B is always good, with resource fall outs, more man-days due to change request, missed deadlines, may push and mess up schedule. Avoid implementation timelines (going live) during peak times of your business cycle.
7) User Testing : Normally called as User Acceptance Testing. This is the phase where the users are confirming the application is configured / customized as per your business process and it is very important to depute the right key users with good amount of time to test the system. When you find a problem after going live with the system it will be a very costly affair to make changes while the system is being used by the users. As seen in the case of Hershey's, skipping testing in order to go live with the software due to time constraints can have disastrous effects. Even if the time for testing prolongs the implementation software, it is better to take the time to do so. It will be well worth it in the long run.
8) User training: The first impression is the last impression and therefore, the key folks who use the ERP on a day to day basis have to be bred with the right length and breadth and depth on training. Training needs to be phased out from top to bottom, exposing not too much or too little, thereby not overwhelming the groups that may belong to finance, accounting, customer service, sales, production , procurement, supply chain, in order to move the implementation in the right stride. Identifying the core team, that percolate the training from ground up will contribute to the project success. In many instances choosing the wrong core team or choosing people who don't have the right skills have been the main cause of ERP failures and not the software itself.
9) Ensure sufficient funding: ERP Implementation is a very expensive affair, as such ensuring that there is sufficient funding in order to complete your implementation process successfully is an important point to keep in mind. It is better to ensure that there is at least 25% more funding than the estimate in order to account for unexpected expenses during implementation.
After having a compelling need on investing on an ERP and preparing for the journey ahead, if you are still confused on what ERP to choose from, here are some insights.
The top 3 ERP in the market for Enterprise Business are as follows: – to help you better answer the above question.
| Features | Dynamics 365 Finance and Operations (now called as Finance & Supply Chain) | SAP Hana | Oracle Enterprise Application |
| --- | --- | --- | --- |
| | | | |
| | On premises and cloud options are available. | On premises and cloud options are available. | On premises and cloud options are available. |
| | Shorth in comparison to others. (At most 12 months) | Lengthy (At least 13-14 months depending on the amount of customization required. | Takes a lot of time at least 15 months |
| | | | |
| | | Lengthy learning curve compared to the other two. | |
| | User friendly since the UI is like windows. | Medium difficulty. Takes time to understand the UI. | |
| | Mid to Enterprise level business | Mid to Enterprise level business | Mid to Enterprise level business |
| Flexibility in functionality | | | Mid – range in terms of flexibility |
| | Very easy to customize as per user needs. | Customization is difficult. Deep knowledge of the software is needed and takes longer. | There is a great deal of variety in customization options, allowing the user to choose as per their needs. |
| | Integrates well with Microsoft suite of products as well as non- Microsoft | It does best with native integration. Integration with non – native applications are more difficult and costly. | It integrates well with native and non-native applications. |
| Ease of Employee adoption | | | |
| | | | |
| | Has built in BI tools like Power BI. Multiple sources of data can be used as source. | To get the most out of BI, separate server, database and security are needed. | Very expensive. Requires deep data scientists and analysts to operate. Is capable of handling complex business data. |
Like the above table here are the top 3 ERP for small and mid – size business.
| Features | Dynamics 365 Business Central | NetSuite | Infor |
| --- | --- | --- | --- |
| | | | |
| | | | |
| | Integrates well with other applications but less than NetSuite. | Integrates best with other applications. | |
| | The implementation time is short and is packaged based on customer's needs and skill set. | The implementation time is lengthy, taking 6 months or more based on the customer's needs. | Implementation time is average compared to the other two. |
| | Need for customization is rare. When needed it is a very easy process. | Lengthy learning curve compared to the other two. | |
| | User friendly since the UI is like windows. | Customizations are difficult and require the help of experts who are familiar with the software. | Customizations are abundant and easy, and users have a variety of options in attribute customizations. |
| | Small to mid-size business | Small to mid-size business | Small to mid-size business |
| Ease of Employee adoption | | | |
KORCOMPTENZ is a Microsoft Gold-Certified Partner headquartered in New Jersey with extensive experience improving business outcomes for our customers. We leverage end-to-end solutions involving the ongoing convergence of ERP, Azure Cloud, Analytics, Artificial Intelligence, and IoT. We specialize in the Microsoft Dynamics 365 range of products such as Dynamics 365 Business Central, Dynamics 365 Finance and Operations, and Dynamics 365 CRM. Request a consultation today!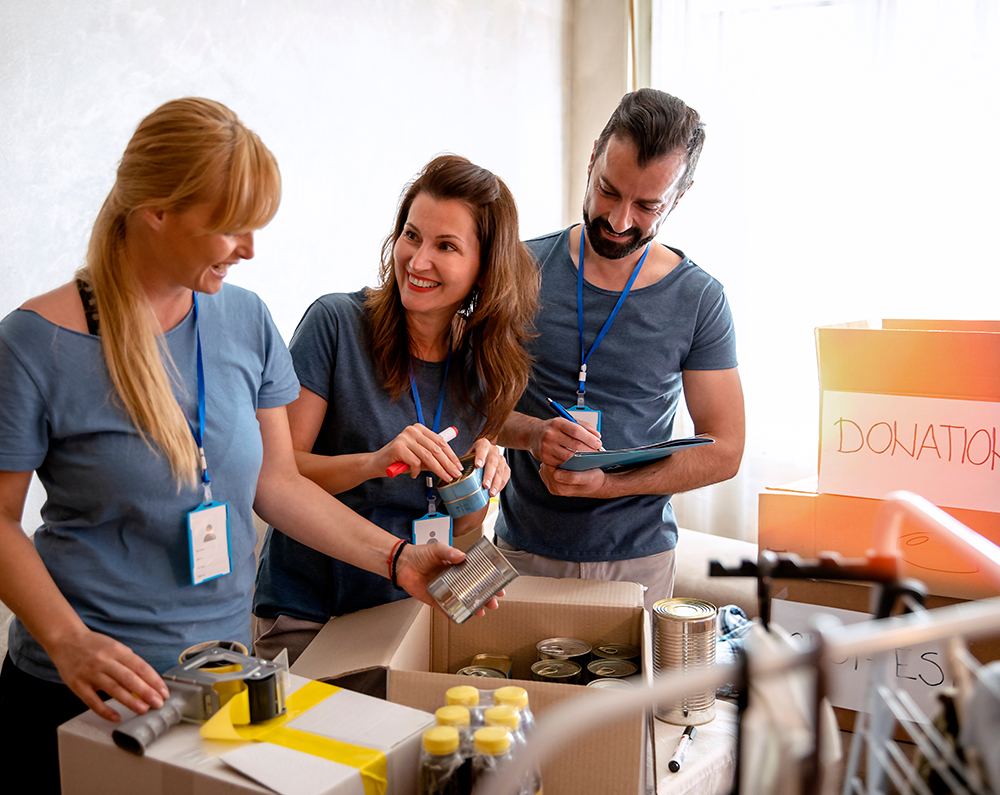 Non-profits strongly depend on donations and grants and are accountable when it comes to their funds reporting and spending.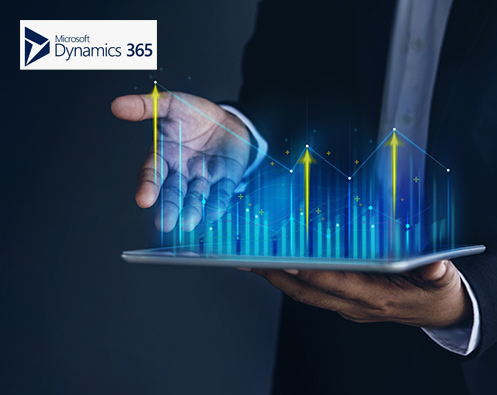 Microsoft Dynamics 365, a cloud-based application experience based on a common data model allowing Microsoft's current CRM and ERP cloud solutions to be deployed in one cloud service with new role based subscriptions.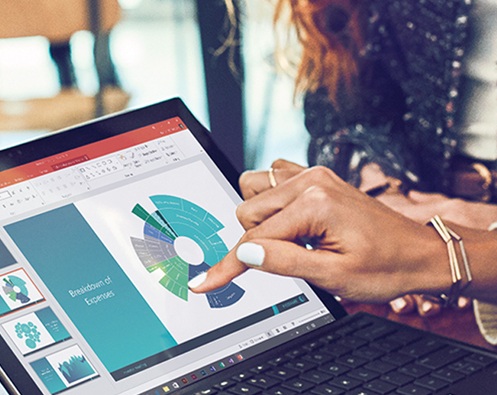 Microsoft Dynamics 365 is the next generation of intelligent business applications in the cloud. Microsoft Dynamics 365 unifies CRM and ERP capabilities by delivering new purpose-built applications to help manage specific business functions, including Dynamics 365 for Sales, Dynamics 365 for Marketing, Dynamics 365 for Customer Service, Dynamics 365 for Field Service, Dynamics 365 for Project Service Automation, Dynamics 365 for Finance and Operations, Dynamics 365 for Commerce, and Dynamics 365 for Human Resources.