Hyper-personalize as many touchpoints as possible and create cohesion across multiple channels to achieve 200% ROI or more

Retail is an ever-evolving industry. Over the past few years, even the definition of a store has changed dramatically. This evolution has only accelerated because of changing customer preferences and new opportunities provided by digital transformation. The data is clear: Consumers prefer retailers that engage them on a personal level and connect across channels. It has become imperative for retailers to take a consumer-centric approach, providing value at every touchpoint of the customer journey – while personalizing the entire experience.
"Connected Retail" is at the heart of making shopping more intuitive, responsive, convenient, and personalized for customers and more operationally efficient for companies. The pandemic has also revealed how a connected supply chain is increasingly vital to ensuring the availability and efficient delivery of products. Of course, people remain a critical link across the value chain and smart solutions for humans are essential to an empowered and energized work force in the fast changing, connected world.
Korcomptenz's Transformation Framework & Solution for Connected Retail

For the purposes of the webinar, we presented Microsoft Dynamics 365 as a complete solution to achieve the goal of transformation from a regular retail business to a Connected Omnichannel business model, but there are other platforms in the market that we support which can achieve similar outcomes. The webinar was conducted on January 25, 2023, and the main objectives were as follows
The State of Retail Today and Tomorrow
Today, most retailers continue to use disparate systems to manage different aspects of their retail presence, while truly Connected Retail remains the gold standard and an enabler of significant growth.
In this webinar, Korcomptenz will help you see how the next generation of customer experience and operational excellence is supported by intelligent devices (IoT), smart applications, integrated systems, timely insights, and strategies that enable your Customers, Products, and People to work seamlessly together, unlocking the next level of growth.
Retail 2030 – A Story of Digital Maturity
In the webinar we discussed how retail presence might look like in 2030 managing the entire store experience before your customers even get out of their cars. This is when key trends including the Internet of Things, Augmented and Virtual Reality, and Facial Recognition technology become mainstream.
The webinar demonstrated the omnichannel customer journey with an integrated solution for eCommerce, Customer Service, Customer 360, and Supply chain which includes:
Discover the power of Dynamics 365 in the world of Connected Retail with Korcomptenz's transformation framework and solution.
How can Korcomptenz help?

Korcomptenz is a total technology transformation partner with a human-centered approach to solution design and a cloud-first technology strategy driven by the "Proven Nine" capabilities.  We help retail organizations across the enterprise, connecting with your customers in new ways, and helping you better manage your relationships with key audiences.  We can collaborate with you to build a better workforce that is more collaborative and engaged.  We make your organization more efficient and improve productivity using automation and data.  We also help you innovate with new technologies and strategies for the future.  Our Connected Retail Practice solves business challenges and helps our customer's gain competitive advantage.
Learn how Korcomptenz can help you gain a competitive advantage in the connected retail landscape, leveraging cutting-edge devices, intelligent analytics, and Dynamics 365 for retail.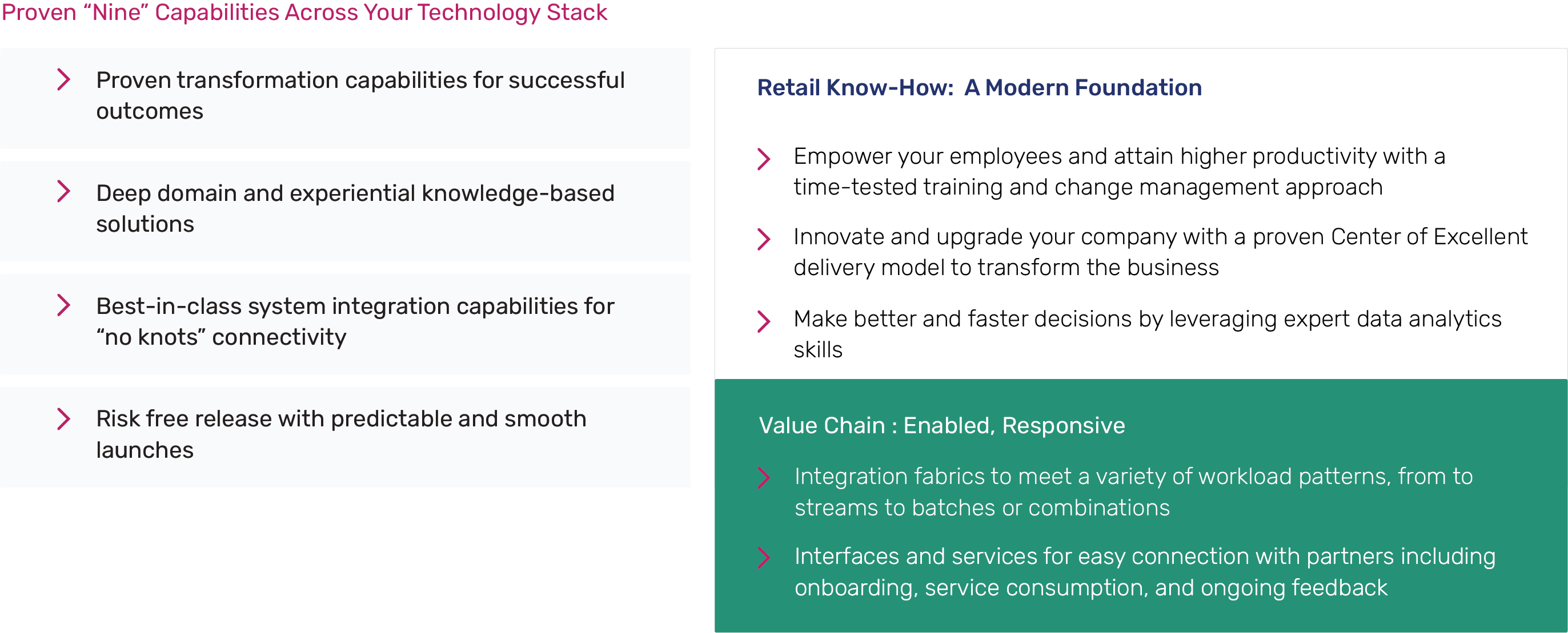 Korcomptenz showcased their case studies. These case studies tell how we assisted leading companies address key aspects of their connected retail initiatives. These include implementing entirely new systems to integrate critical applications and functionality, to creating data warehouses that deliver advanced analytics and forecasts. We helped a global retail franchise totally reimagine their systems in the cloud. We helped a global conglomerate extend their back-end systems into front-end experiences for their customers. 
As a next step Korcomptenz is open to engage with you on the next level of details and discuss how we can help kickstart your transformation journey in this "Connected" world.
Tell us how we can #FocusOnYou