Tips to Improve your activity tracking and generate more insights
Salesforce is the world's go-to platform to improve operations, increase sales, and revolutionize customer service. One of the key features available in the Sales and Service clouds is advanced activity tracking, enabling your organization to track all touchpoints with customers and prospects to personalize their experience and generate insights that drive more business.
In addition to activities logged directly in Salesforce, you can even integrate email communications and phone calls, enabling you to synchronize calendars, call logs, as well as creating customized reports. The data can also be used to manage the productivity of your sales representatives and CSRs.
This blog is designed to help you improve your activity tracking and generate more insights.
Setting Up Activity Tracking
According to estimates, over 83% of Fortune 500 companies use Salesforce. In order to replicate their success, it is extremely important for your business to make the most of features such as activity tracking. The first step is to understand a few the nuances of setting up the tracking features.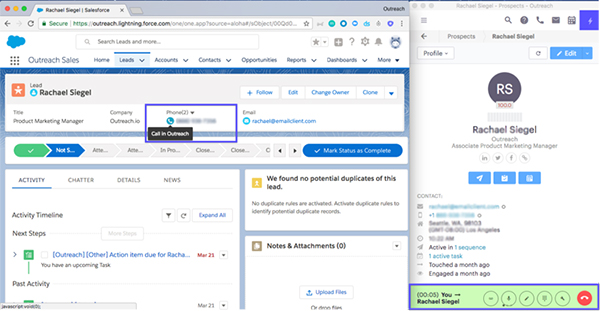 First, you should consider what activities you would like to track. As a full featured, flexible platform, Salesforce enables you to log almost any activity with almost any label. Activities can also take the form of Events and Tasks. This gives you a lot of options, but it can also result in confusion in your data. For example, one of your sales representatives may label a customer visit as a "meeting" and another as an "appointment," and they will be identified as different activities when you run your reports.
Therefore, it's important to standardize activities for your business. It's also helpful to keep it simple, using Events only for communications and meetings, and Tasks for internal work.
Consider a few common Events:
Phone Call

Virtual Meeting

In Person Meeting

Email
While you might want to include Presentation or Proposal, those activities might be better handled as part of your opportunity process because they can have a potential close percentage associated with each stage and be a part of your overall sales funnel.
One other thing to keep in mind: Events can be organized as past and future, logging what happened and what is to come. For example, if a meeting is booked with a customer at a future date, it can still be logged in addition to events that have already happened.
After you've standardized your activities, update your settings in Salesforce to limit activity logging to these options, and train your sales team on what the unique options mean for your organization.
Now, you're ready for your users to start logging their activities and you can start reporting on their productivity. We recommend creating a Key Sales Activity Dashboard. You can set this up by going to the dashboard menu and import the individual activity data sets entered by your sales reps. As part of the final step, you could create reports within reports. This enables you to filter existing activity tracking reports to aggregate data for individual geographies or segments. This will improve your activity tracking process and allow you to look at the data in different ways. You will get access to comparable metrics that help you identify sales gaps and improve conversion rates. The top management of the business also has the ability to grant special editing permissions to select staff members.
Email and Phone Integration
In most organizations, your sales representatives aren't performing their activities directly in Salesforce. They're using Microsoft Office 365 or G-Suite to send emails, and their desktop or mobile phones to make calls. Fortunately, Salesforce gives you the ability to integrate this data automatically as well along with other key usability tools like your calendar and tasks.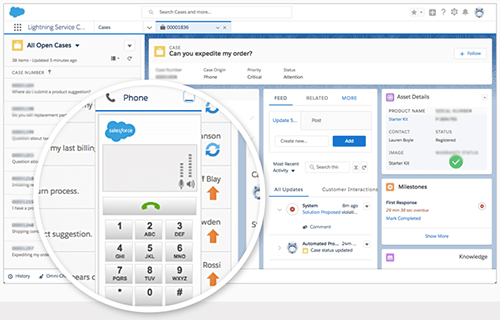 Outlook and G-Suite integrations are supported through the use of an easy to install plugin. Your Salesforce administrator and your network support team should be able to get you set up quickly. After your team has been set up, Salesforce will check the email address of the recipient and automatically log the email to the lead or contact. The same is true for inbound messages from known addresses. Automatic call logging is a little bit trickier and requires you to purchase an additional service.
These services can enable VOIP dialing, allowing your sales representatives or CSRs to make calls directly from their desktop or tablet, and also automatic logging of calls from mobile devices. There are a wide variety of services available to meet your unique needs and infrastructure; some providers automatically look up the inbound or outbound call user and display the information available directly in Salesforce. If you need any help picking a provider, please feel free to contact us.
Once the service is set up, it functions very similar to the email tracking, only looking at the phone numbers stored for lead and contacts instead of email addresses.
Tasks and Chatter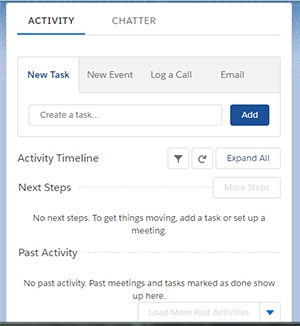 One other set of features to be aware of are Tasks and Chatter. These are tools that enable your users to collaborate on sales and customer service:
Tasks enable you to assign work to yourself or your colleagues; they are very helpful to keep track of all the steps required to provide an exceptional experience, but shouldn't be used as a substitute for true workflows

Chatter enables you to post information about a lead, contact, or account in a message board style, allowing your team to communicate directly in Salesforce
Where to Next?
Salesforce offers endless possibilities to maximize your sales pipeline and improve your customer service. If you have any questions about activity tracking or other best practices, feel free to contact us.
Korcomptenz is a Salesforce Registered Consulting Partner. We've been in business for almost 17 years and can get you started on Salesforce by procuring the software, implementing and customizing the platform, importing and integrating your data, and providing full service support. Our seasoned teams of strategic thinkers also help map out your business processes and implement them in Salesforce, all at very cost-effective price points.